EXPERIENCES IN SHARING ECONOMY + NETWORKING LUNCH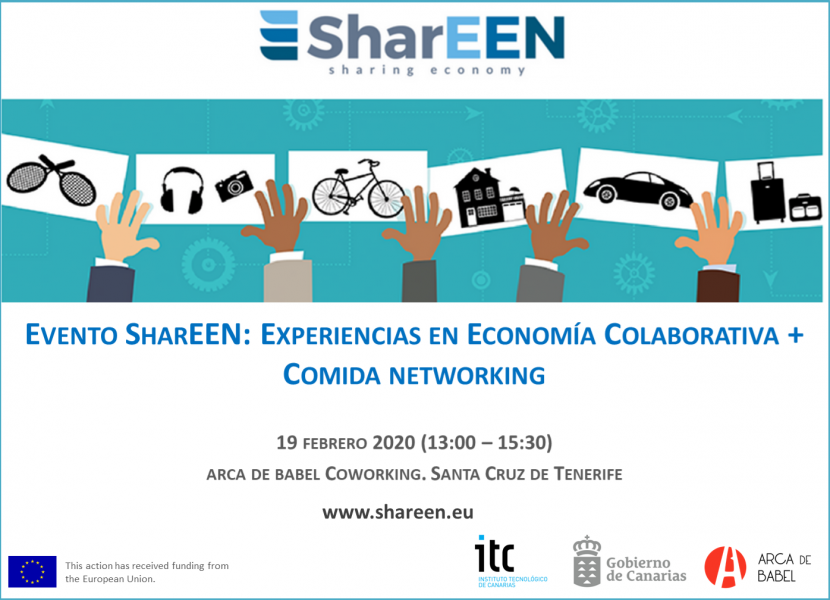 Category
SharEEN project event
Date
Wednesday, 19 February 2020
13:00
-
15:30
Venue
STA TERESA JORNET E IBARS STREET, 11, LOCAL BAJO, 38004 - STA TERESA JORNET E IBARS STREET, 11, LOCAL BAJO, 38004

Email
This email address is being protected from spambots. You need JavaScript enabled to view it.
EXPERIENCES IN SHARING ECONOMY + NETWORKING LUNCH

19 FEBRUARY 2020
TIME: 13:00 - 15:30
ARCA DE BABEL COWORKING SPACE
STA TERESA JORNET E IBARS STREET, 11, LOCAL BAJO, 38004
SANTA CRUZ DE TENERIFE

DIRECTED TO:
Initiatives and platforms that exchange goods and/or services within the framework of the collaborative economy. Entrepreneurs and future entrepreneurs. SMEs and companies interested in the collaborative economy. Organizations, public administration, business associations, non-profit organizations and the general public.
OBJECTIVES:
- To share the results achieved in the framework of the SharEEN project, as well as future actions to support the collaborative economy in the Canary Islands.
- To create synergies, through networking activity, between the collaborative economy entities in the Canary Islands.
PROGRAMME:
12:50- 13:00 Reception and registration
13:00- 13:10 Presentation and results of the SharEEN project
- Canary Islands Institute of Technology
- Slovak Business Agency
13:10- 14:00 Pitch beneficiaries Project SharEEN
- Moisés Santana
- Tenwork + AJE Tenerife
- Wikivitas
- Arca de Babel + Generando Talento
14:00-15:30 Collaborative lunch + Networking: Experiences of Collaborative Economy in the Canary Islands
FREE EVENT WITH REGISTRATION
All Dates
Wednesday, 19 February 2020

13:00 - 15:30