"Do you care to share? - sharing economy, trends and challenges" - how it looks like in Poland
The major part of the event consisted of speeches hold by the following:
Mateusz Litewski, Uber– public policy manager for Central & Eastern Europe at Uber, former consultant at numerous companies specialising in e-commerce, heavy and financial industry
Piotr Boulangé, Pozamiatane.pl - director at Founder Institute Warsaw, and a Coworking Expert
Maciej Panek, Panek Carsharing -board chairman and owner of Panek S.A. and UAB PANEK
Jacek Śliwiński, Społeczna Wypożyczalnia Cargo - runs local courier company, experienced with marketing and trade, co-creator of cycling Lublin infrastructure map

In the last part of the event audience had chance to ask questions. After a few minutes we had very interesting discussion. The main focus of the discussion moderated by cooperation with Mariusz Trawiński from Centropolis, was on the challenges of the global, share economy services market than changes rapidly, especially in the area of car sharing. We tried to find answers on the following questions: What are the problems that share economy sector faces currently? What do need companies that want to operate in this model? What legislative measures can be introduced in the car sharing economy sector? What changes could be implemented? What can be expected from the administration?
It was highlighted that there is no statutory definition of car sharing in Poland. The development of this sector has begun in 2017.
Companies operating in the car sharing sector expect from the city authorities greater participation (support) in the development of such initiatives, expecting e.g. tax credits. Legislators should change the law allowing balanced competition, facilitating the operation of micro businesses in particular. It was also emphasized that the law "can't keep up with technology" because it isn't adjusted to rapidly changing modern technologies. That is why it inhibits development of innovative ventures.
The car sharing awareness among the elderly is quite small because the market seems to be concentrated rather on young people. Companies begin to introduce new types of services (e.g. rental buses, medium and high class cars). The future of the car sharing industry might be concentrated on specialization, supporting local initiatives and the dynamics of trends related to carpooling.

Under the so-called "good practices" for people who would like to start a business in the sharing economy model was suggested to focus on one technology/area only. It was advised to acquire new clients constantly because it enables a company to development from small to large business.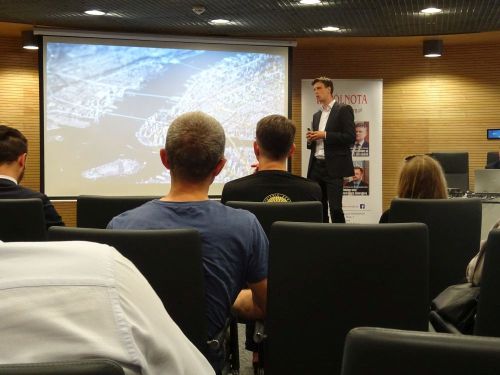 Shareen
SharEEN is an European pilot project on "Opportunities for European Entrepreneurs in the Sharing Economy", co-funded by the European Commission under the Call: 251-G-GRO-PPA-16-9953. Grant agreement SI2.763745. The objective of SharEEN is to identify and link-up with collaborative economy platforms, exchange experience with all relevant stakeholders and help European SMEs, social enterprises and other relevant actors to exploit the opportunities offered by the sharing economy. In particular, the project aims at building knowledge and capacity among Enterprise Europe Network partners' staff and other stakeholders on sharing economy, and help them define and deploy supporting services for their SMEs.
SharEEN map of regional sharing economy initiatives
The map is based on the results of the surveying activity carried out by the SharEEN project in 2018. It includes a brief geo-referenced description of a set of sharing economy initiatives, platforms and companies, operating in the eight European regions covered by the project.