Webinar on Sharing Economy and Wellbeing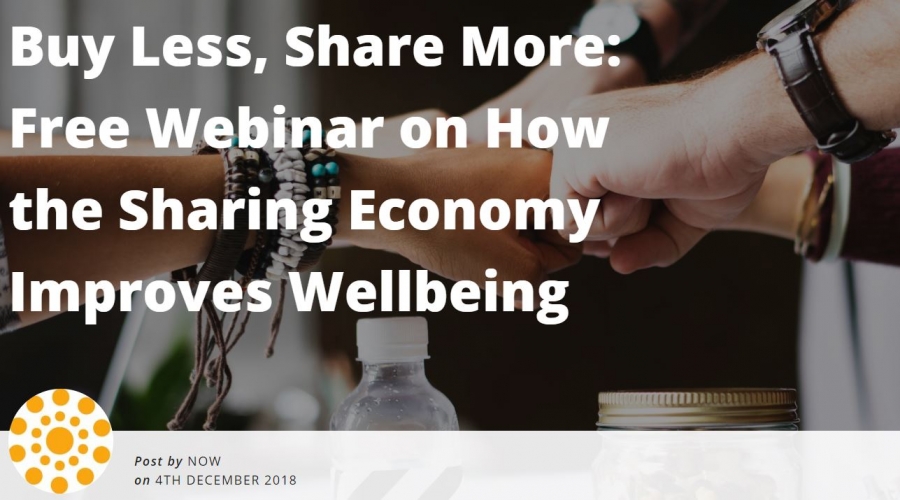 Category
International event
A webinar hosted by Network of Wellbeing (NOW) and featuring Tom Llewellyn from www.shareable.net/ as the guest. The webinar will explore the following topics
How we can work with others in our communities to create shared culture and a greater sense of place.
Pathways to opting-in to creativity and connection over transactionalism and consumerism.
How sharing our time, skills, and stuff can reduce loneliness while promoting social inclusion.
Why we need not fear 'others' during times of crisis and disaster.
Shareen
SharEEN is an European pilot project on "Opportunities for European Entrepreneurs in the Sharing Economy", co-funded by the European Commission under the Call: 251-G-GRO-PPA-16-9953. Grant agreement SI2.763745. The objective of SharEEN is to identify and link-up with collaborative economy platforms, exchange experience with all relevant stakeholders and help European SMEs, social enterprises and other relevant actors to exploit the opportunities offered by the sharing economy. In particular, the project aims at building knowledge and capacity among Enterprise Europe Network partners' staff and other stakeholders on sharing economy, and help them define and deploy supporting services for their SMEs.
SharEEN map of regional sharing economy initiatives
The map is based on the results of the surveying activity carried out by the SharEEN project in 2018. It includes a brief geo-referenced description of a set of sharing economy initiatives, platforms and companies, operating in the eight European regions covered by the project.
Events
Mon
Tue
Wed
Thu
Fri
Sat
Sun
>
>
>
>
>
>
>
>
>
>
>
>
>
>
>
>
>
>
>
>
>
>
>
>
>
>
>
>
>
>
>
>